A perfect place to meet
a rising star!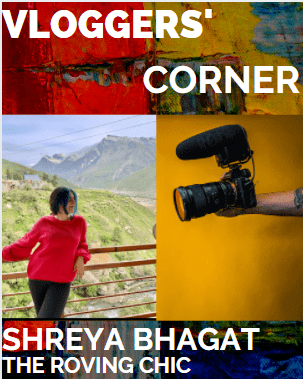 Who is a Roving Chic
Ans. A Travel Vlogger
Why Travel Vlogs
Ans. Because I love travelling the most.
Your favourite place so far?
Ans. Sissu, Himachal Pradesh
Your phone brand you shoot with?
Ans. Iphone
Biggest pet peeve for a Vlogger?
Ans. Finding clean, budget hotels
Three best travel tips
Ans. a. Indulge in local food
b. Carry a first-aid kit and always know a medical facility near your stay.
c. interact with localites
The best comment you ever heard about your Vlogs
Ans. '' Your vlogs inspire us to travel''
Success Mantra to be a successful vlogger?
Ans. Consistency, consistency and consistency
Your next destination
Ans. Jaipur and Jodhpur
Follow 'the roving chic' @the.roving.chic and @youtube
https://www.youtube.com/channel/UCSswS0CNZHVNasMISlg1ctQ